Reading the news this morning from the USA, "… House passes $40 billion cut to the food stamp program over the next 10 years", and having seen the recent news from only a couple of days ago that was analysed across the business media across the political spectrum of perspectives, as represented in the following graph leads me to that position I am in occasionally with a client, where I end up saying, "See, now here's your problem right here"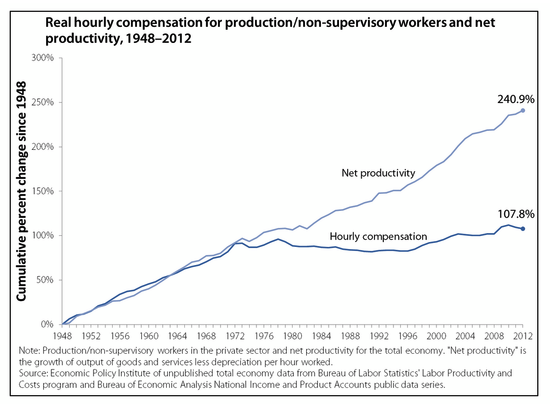 Now, when I read that graph I arrived at what I believe to be an obvious conclusion. Clearly, however, many of the supposed experts who examined the same data arrived the conclusion: "Yes, that was pretty effective. Now what we want to do is make sure that the poor fuckers who have gained nothing for their input in increased productivity over the last 40 years now can't even have the pittance that has been provided food assistance to keep them going when we heap out largess to the farming industry every few years. That's the way you balance a budget."
Really, at this point I don't see how any other objective conclusion could be reached other than that this is one big natural experiment in psychohistory with the following thesis: How far can you push a (lower) middle class before they actually do start rioting in the streets and stringing up bankers they can find when they loot lower Manhattan?
I mean fucking honestly. There is no one I could find disputing the data in the graph above as I have been reading about the update in the research that I first read a year ago. Sure the WSJ puts quite a different spin on it than does The Nation, but neither dispute the facts. The middle class has lost any gains due to productivity for 40 years so that those supplying capital and those that run the major companies in the world can enrich themselves vastly. And, unless there is some significant outcry and political movement in the near future, the US may actually be at the point in society where they will let the poor and working poor starve (and freeze) to death. Fuck em, right? They won't riot, they'll be too hungry and tired from working their two fast food jobs. And fuck the new indentured class too – those students that thought they would get a leg up by borrowing to go to uni and instead found their aren't any jobs in their field or anything similar, and they aren't allowed to go bankrupt so they can just fight for a couple of those Walmart jobs themselves for 30 years to pay off their debt.
What will it take until someone says directly to the power, "See what you got here is a problem with your minimum wage. Unless you raise your minimum wage, you aren't going to reduce the need for food stamps. And if you don't raise that minimum to something like a living wage, your middle class (that drives 70% of GDP growth) is going to disappear."
You might also want to consider the motivation and interest in continuing to participate in a civil society for folks in the middle and lower end of the spectrum. What would motivate someone to work a job at Taco Bell and a job at 7-11 for a grinding ability to just stay out of poverty their whole life as opposed to something illegal, when clearly those who are too big to jail would call it foolish.
Then consider how there always seems to be this exasperated search for motive when someone brings a shotgun into the office. I wonder if a society so steeped in inequity and so desperate to maintain access to guns doesn't realise how close it is to an MO for a mass murder on a daily basis. Sure, you could say that all these people are random crazies, but then they aren't covered for mental health care or even institutionalisation since Reagan's time either. You are just getting used to how bad things have gotten for the majority, how disconnected 'leaders' are from subjects, and only lack a spark to set a lot on fire.